More handwriting analysis… with samples.
Let's first take a look at the handwritings of a few known serial killers.
Gerald Eugene Stano
Pudgy, short, and not what one would categorize as a looker. In his mind, he most definitely felt the opposite, referring to himself as a,"real itallion stallion". In realityt , he was a cold blooded psychopath.
He confessed to 33 gruesome murders. The number has ascended to 41. Twenty-two of the bodies were found and identified.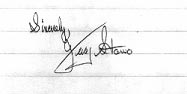 Note the sharp, needle point like lines which cut through the lower part like a knife, as well as loops, complicating the shapes and creating strange looking letters, much like stranege, unconventional behavior.
Albert DeSalvo
Violent and abusive home. At the age of 31 killed first several elderly women, then younger women. In 1973 he was stabbed to death in prison.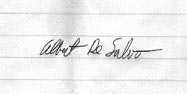 Notice the extremely narrow letters and the long horizontal bars which are written with greatre pressure than the rest.
Kevin Haley
Two-man team with his brother, consisting rapes, sodomy, oral copulation, sexual assaults and kidnapping. In 1979 committed eight murders of elderly and young women over a five-year period.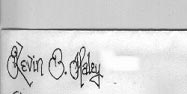 An example of a strange and deformed handwriting. The writter invents his own original letters with complete disregard of the norm.

Source: Anna Koren